Quick Report: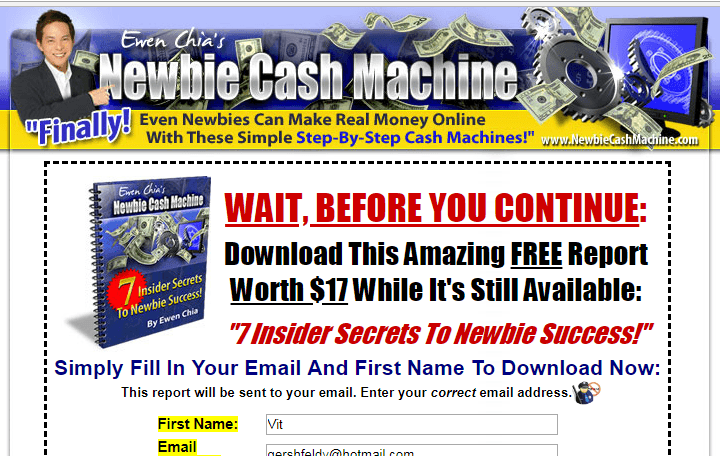 Name: Newbie Cash Machine by Ewen Chia.
Price: $27 with followup up-sells.
Overall Rating: 3 out of 10 stars. This is actually a redirect into a different program Ewen has created before.
That one received 4 stars, but this is rated less because of several reasons I will explain. It's not a scam, but there's more comprehensive programs that teach you more than what this program does and I will show you them.
Recommended? No.
What is Newbie Cash Machine?
Well this is the problem…
There's 3 potential things that this program can be and the one I am basing my overall rating on is the likeliest of them all. This is because the Newbie Cash Machine site itself leads in 3 different directions and the end result of each one is a different program by Ewen Chia.
1) The first is supposedly a free PDF report by Mr. Chia on the actual Newbie Cash Machine System. You just enter your name and email and supposedly are supposed to get it. But when I tried, I got a 404 error: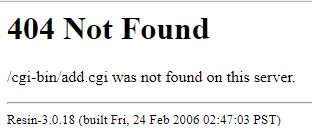 2) The next option is that if you try to visit the OFFICIAL Newbie Cash Machine website, it redirects into a site called 100000blueprint.com which asks you to sign up for a webinar. Upon signing up though, I was taken to a program called Money on Demand System which I have not yet reviewed, but it has now been added to my list. But do note, that this program is completely different. I will be providing a review of it when I can.
3) And finally, the likeliest of all 3 scenarios is that if you look at the same official page of Newbie Cash System (where I said one of the links points to a 404 error), there is a checkout cart and that leads into yet again a different named program called $5,000 from Scratch. And it is because I already reviewed that program before plus the fact that it was on the site was why I decided that this was the official program being promoted.
So in short: Newbie Cash Machine most likely = $5,000 From Scratch.
That being said, what exactly is that program? Well, the official, comprehensive review on it is here, but to save you time, the short summary is that it was a tutorial on promoting high paying affiliate offers through SEO (Google) and social media like Facebook.
The goal was to get traffic from those 2 sources and send them to programs which would pay you a lot if a sale would be made. In that sense, making the $5,000 in a month is "technically" easy, but in practice, I have found that to not be the case.
Not many people are ready to spend big money on items that pay you a lot. To solve this problem, the person who wishes to promote high cost items needs to know how to attract the RIGHT buyer traffic to their site and the type of traffic that HAS the money to spend on this stuff.
In short, you need high quality visitors who know what you're selling and are ready to pay for it. For this to work, you also need high quality training and this is where Ewen loses me…
The big reason why I don't recommend Ewen's programs:
There are several underlying problems I have with his programs, 2 in particular are:
1) The training tends to be very outdated in many of his programs that I've reviewed. Now in the case of this program, aka $5,000 From Scratch, I'd say it's content reflects the present nature of marketing on the internet and does work, but his other programs, tend to be YEARS behind in what they teach, some practices which are no longer viable.
2) The other big issue is vague training, even in his "good" programs.
In the $5,000 From Scratch, even does video tutorials on selling high cost items and shows you his approach for generating traffic, but provides no real evidence for this working. It's not that I don't believe it (I've made sales doing the same type of stuff he endorses), but the lack of proof + none comprehensive training leaves a lot of questions which people will likely have if they try to implement the system and when they run into questions, there doesn't appear to be answers for them. That was my personal experience and impression when I went through the $5,000 from Scratch program.

Final Rating: Newbie Cash Machine.

Yellow Flag.
3 out of 10 stars. While the program this one links to actually got 4 stars, I lowered the rating because Newbie Cash Machine was leading me in different directions and thus confusing me. I want to be led into 1 program that works well enough for me, not have multiple offers all trying to make money off me and that's something I often see with Ewen's programs and I personally do not like it.
My final thoughts: Should you buy the program and if not, is there something better?
I did get some value out of Ewen's $5k program, but in all honesty, I was not happy with the purchase. I always feel like there's some missing info which can affect one's success with his program/s and that's one of the reasons why I almost consistently rate his stuff in the 3-4 star range.
This conclusion I keep coming to happens for 2 main reasons:
1) I know a lot about internet marketing and know what strategies are good, bad, outdated and so on.
2) I learned most of my stuff through 1 program which is FAR superior to any that Ewen has ever produced that I have reviewed. In fact, I'd say if you put all of his programs together, it still doesn't compare to my #1 recommendation:
This is really one of the biggest reasons why I still find myself not liking Ewen's stuff, not because I want to send you somewhere else, but because I feel like you have WAY more potential to succeed if you learn online marketing through my recommendation.
So overall, I do NOT recommend Ewen's program. Believe me, if it were good, I absolutely would and there have been rare times that I've seen a good program, said it was good and linked to it. This has never been the case with Mr. Chia unfortunately, but at least you now know what's better.
from How to Make Honest Money Online http://bit.ly/2Ma8ING
via
IFTTT